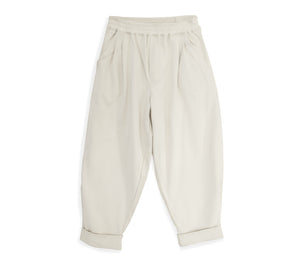 Everyday style, reinterpreted.
Unisex trousers rounded legs, side pockets, hidden elasticated waistband.
Composition: 100% soft Cotton
Color: Ecrù
OUR GUIDE TO PRODUCT CARE:
Everything in our collection is crafted with longevity in mind. Here we share tips on how to make your pieces last as long as they were designed to.
- Hand wash or machine wash at 30 ° 
- Use the soft spin program to avoid unnecessary creasing
- Knitted garment must be laid flat to avoid deforming them